Ulster County's role in supporting and encouraging open space planning and preservation continues to evolve, as do the tools used by communities to develop and implement the plans. From the original 1972 Open Space and Parks to the current 2007 Open Space Plan, through the more modern web-based, interactive, County Parcel Viewer and publicly-available GIS datasets, Ulster County continues to invest resources in the ability to provide technical support, expertise, digital data, and other resources to meet the needs of our municipalities.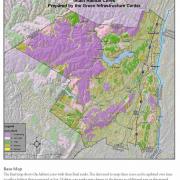 A recent example of this commitment is the product that Ulster County completed recently with the nonprofit Green Infrastructure Center (GIC). The County was selected as the "pilot" green infrastructure community in New York, Ulster County staff worked with NYSDEC and GIC staff to pilot an intact "habitat cores" metric across the County. The product was a Habitat Cores map and comprehensive dataset of the most intact areas of undisturbed open spaces (habitats). These areas are shown on the map below. By sharing these data with local municipalities, planners can then identify and elect to protect/expand those core areas, while directing development pressure to more appropriate locations.   
Listed below are numerous resources from all levels of government that are available to help communities conduct open space, natural heritage planning.
Ulster County 
Local Municipalities
Regional
Shawangunk Mountain Regional Open Space Plan (2008)
Shawangunk Mountains Scenic Byway Corridor Management Plan (2005)
Scenic Resources in the Shawangunk Mountains Region; A Guide for Planning Boards
Catskill Mountains Scenic Byway Corridor Management Plan (2014)
Hudson Valley Natural Resource Mapper - The mapper complements training, technical assistance, publications, and habitat and water resource summary reports provided by Hudson River Estuary Program staff. It can be used to support the development of natural resource inventories, open space plans, and watershed plans. 
New York State
NYSDEC 2009 Open Space Conservation Plan
NYSDEC 2014 Draft Open Space Conservation Plan
NYSDEC HREP Creating a Natural Resources Inventory (NRI) Guidebook – (2014)